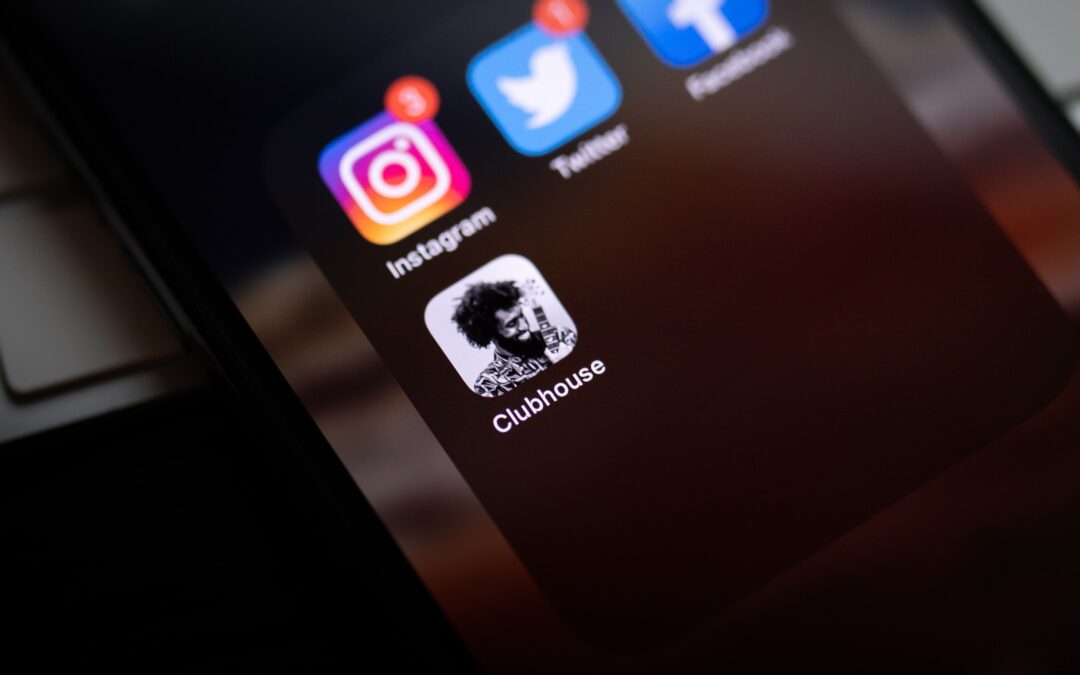 What is Clubhouse?
Clubhouse is a new platform and lots of people are very excited about it and are spending a lot of time on it.
The Clubhouse social media platform was founded in May 2020.  Created by Paul Davison (Silicon Valley entrepreneur) and Rohan Seth (a former Googler and founder) it is funded by venture capital firm Andreessen Horowitz.  Initially finding popularity with the Silicon Valley crowd it was valued at about $100 million (£73m) back in May. 
Seven months later in December 2020, Clubhouse had 3,500 members around the world. That crowd includes key celebrity users such as Oprah, Ashton Kutcher, Drake, and Jared Leto. Currently, it has 600,000 registered users around the globe. It is soaring in popularity and set to surpass it's first million users within the coming weeks.
What makes it so popular?
How does it compare to the other social media platforms? Well, Twitter is focused on text and words, Instagram on images and video and Facebook is all about profiles and faces. Clubhouse is different. It has found a gap in the social media market. It brings a key factor that other platforms have overlooked and that is the power of pure audio.
While other platforms focus on plenty of visual and written media (such as captions, images, and videos), Clubhouse shifts the focus to an audio-only format. No need for you to sit there staring at your screen and having your Zoom room ready. Or the need to get your best selfies face on! All you need is your ears and if you want to participate, your ability to talk and share.
Rooms with plenty of views!
Clubhouse is a series of user-created rooms. These rooms are areas where you can talk with others, some of whom are speakers and others who are there simply to listen.
People can move freely between conversations. If you like the conversation in a particular room, you can 'raise' your hand and volunteer to get onto the 'stage'. Get 'picked' from the audience and you will join the main speakers and join in the discussion with the hosts. But if being on stage is not your thing, then you can take a backseat as a listener and simply enjoy the vibe or learn from some well-respected speakers.
The aim of Clubhouse is to be a safe space where celebrities and regular people can answer questions, lecture, showcase talent and share stories without having recordings lingering on other social platforms. A big pull is the sheer variety of topics discussed throughout and available 24/7.
Clubs, Halls and Rooms
Once inside you will be in a hall where you can see 'rooms' which you can hop in or out of at any time. You can also follow your favourite speakers and be notified when they are planning a talk. Conversations can't be saved or recorded through the app, so part of its appeal is the freedom with which people – particularly high-profile celebrities – can talk openly. You can connect directly to top influencers from a diverse crowd of musicians, authors, actors, and media type celebs. So, once you're inside a room, you can eavesdrop or join in with conversations that are happening. One feature is the 'leave quietly' button. It means you are free to come and go as you wish.
You can even create your own room where you will be responsible for curating discussions around your chosen topics. As a Room host it's impossible to know who's really listening. There are no official recordings or replays, everything is in the moment and live. That's not to say that conversations could theoretically be recorded using additional devices. So as always it is wise to remember you are on a public forum.
You can start up your very own Club. However, there are just 60 clubs in total. Given its global reach that's not a huge amount and from what I've seen it's not that easy to get Club status. One of the key factors in getting a 'Club' is to prove its popularity with its audience. To see how much pulling power Clubhouse has you only need to look at what happened when Elon Musk's hosted a 90-minute on 1st February. Elon's appearance was a major coup for Clubhouse. His Q&A session quickly drew more than the site's usual 5,000 room limit. It generated huge demand that several overflow rooms were needed. It proved so popular fans streamed the interview on YouTube as Mr. Musk's appearance attracted unprecedented attention.
The real joy of Clubhouse is that it's a bit like dropping into the live recording of a podcast. But unlike a podcast, you can interact with the hosts.
Getting Started in Clubhouse?
The very first step is to download the App from the Apple App store which means at present it is IOS only. There are plans to have Android access this coming Summer.
Clubhouse has used the form of peer-to-peer invite-only. The creators have used the classic 'FOMO' principle. A clever marketing technique based on the Fear of Missing Out. This has caused the classic response to offer an 'exclusive' item and led to a flurry of social media activity.
As it states it's a 'Club', it is by invite only and this has people talking about how they can get access to this newest shiny thing! It's a bit like the buzz of queuing up for the latest nightclub and being one of the first to experience it. Remember those days and the excitement it brought?
Just a note to save you some time, when looking for Clubhouse do not get confused with Clubhouse.io which is a software tool out there for collaboration and project management. Once inside Clubhouse you will find all sorts of help on the knowledge page. You should also view the Clubhouse community guidelines and rules for users to follow.
Final Thoughts
As I offer social media management, I'm naturally curious about all social media platforms and new trends. I have been keeping a very keen eye on this new phenomenon. Like a lot of people, I wanted to know what the buzz was all about. I wanted to see how this new shiny thing worked! So, when I got an invite I was like 'BOOM!' I'm in!
I've been on the app for a few weeks now and I must admit that at first, I was a little overwhelmed. But I found an incredibly good introductory room which gave a great overview of what Clubhouse is all about and how to use it.
So much choice. Who to follow, what topics are happening, which rooms should I invest my time in? To understand better I dropped in at different times and different rooms. I soon became more selective on who to follow and choosing who to get notifications from. Usefully you can adjust notifications and even totally mute them for a while. After the first couple of weeks, I spent time dipping in and out of rooms and found the whole experience a real joy.
Its Free for Now……
My view is that given the millions of dollars that have been invested, inevitably monetisation will come into play. What that entails exactly we will have to wait and see. There may well be the introduction of paid-for services and offers including subscriptions and ticket sales. There is always the possibility of a bigger player such as Facebook for instance coming into the fore as a potential purchaser. Who knows how it will all unfold?
It's a completely different experience from the current assortment of social media. It has people around the world talking to other people on a live platform. They are there telling stories, asking questions, debating, learning, and having impromptu conversations on thousands of different topics.
I think one of the great benefits of Clubhouse is that you can take it with you wherever you choose. Just put on your headphones and take it with you. It lets you multitask while you listen so just like podcasts, you can listen while you take a walk, work out, or in the background as your 'radio'. I've found it a real breath of fresh air.
For now, and headphones to hand, I will simply continue to just enjoy the wide array of audio opportunities on this exciting new social media app.
Free Clubhouse User Guide
If you want to find out more I've created a guide which you can download for free: